Springfield Local Roofers You Can Trust
Pressure Point Roofing Eugene, LLC. has been proud to serve the Southern Willamette Valley for nearly 30 years. As a GAF Master Elite® Certified roofing company, you can be confident you will receive quality and dedication from a staff of proven professionals. Only 3% of roofing contractors throughout the country earn this status. Our team members continually undergo training to enhance their knowledge of the latest industry trends and practices.
See below for a list of cities we currently serve: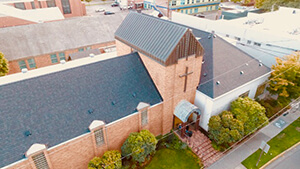 Springfield
Eugene
Florence
Cottage Grove
Roseburg
Creswell
Our Services
Residential & Commercial Roof Replacement
Pressure Point Roofing Eugene, LLC. is your first choice for reliable roofing systems. As a residential GAF Master Elite Certified roofing contractor, we have access to the industry's latest training and the best materials. Our staff also has the experience and knowledge to replace the current roofing system on your commercial building.
Roof Repair
If your roof is damaged, you need a team of professional roofers that can inspect your entire roofing system and take the time to thoroughly investigate the problem. Pressure Point Roofing Eugene, LLC.'s team can properly resolve leaks and restore your roof.
New Construction Roofing
Pressure Point Roofing Eugene, LLC. offers the highest quality products and most advanced technologies for your new home. Our crew of manufacturer-trained craftsmen will properly install your new construction roof for long-lasting protection and durability.
Roof Maintenance
Have you noticed hard-to-reach gutters that are clogged? Maybe you need a routine roof inspection. Pressure Point Roofing Eugene, LLC. is ready to maintain the roof on your commercial or residential property so you can enjoy a longer-lasting roof.
Live in the Southern Willamette Valley? Contact Our Team Today
It is Pressure Point Roofing Eugene, LLC.'s goal to provide quality craftsmanship with premier customer service. By building our roofing company on old-fashioned referrals, we have established a strong presence throughout the community and developed trust with our neighbors! Do you live within our service area? Reach out to our staff by calling (541) 688-7663, or submit our online request form.