For Any Roofing Needs, Pressure Point Roofing Eugene, LLC. Is Here
Residential Roofing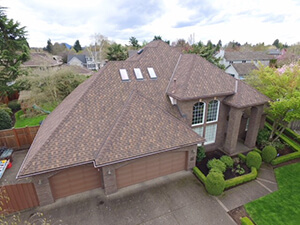 Pressure Point Roofing Eugene, LLC. wants to be your family's first choice for reliable roofing services. We have been serving the region for nearly 30 years and look forward to continuing to care for local homes. As a GAF Master Elite® Certified roofing contractor, we have access to the industry's latest knowledge, training and materials for your residential roof.
Roof Replacement
When it's time to replace your roof, the knowledgeable consultants at Pressure Point Roofing Eugene, LLC. can evaluate the condition of your entire roofing system and give you expert roofing advice.
New Construction Roofs
Pressure Point Roofing Eugene, LLC. can protect your new home with a quality-built roof. Our professional crew will properly design and install the new roof to ensure long-lasting protection and durability.
Roof Repair
When your roof is leaking or damaged, you need a team of professional roofers that will take the time to thoroughly investigate the cause. Let Pressure Point Roofing Eugene, LLC. resolve your leaks and other issues properly.
Commercial Roofing
Pressure Point Roofing Eugene, LLC. has been serving Oregon as a commercial roofing contractor for decades. We have the experience and know-how to help you maximize your roofing investment by maintaining, repairing or replacing the current roof system on your commercial building. Whether the job is a repair or total replacement, our knowledgeable, experienced roofing contractors can complete everything to your specifications and in a timely manner. We will do our best to work with you to ensure the project causes minimal disruption to your business operations.
Contact Pressure Point Roofing Eugene, LLC. for a Free Estimate
Another benefit of choosing Pressure Point Roofing Eugene, LLC. is that our crews can accommodate any size roofing project you need, from small residential repairs to a large-scale commercial replacement. Contact us online or call one of our expert roofers at (541) 688-7663 to schedule a consultation and discuss how we can help you.