As a major exterior component of a home, a roofing system greatly affects how a property looks and functions. This is why creating a better home has a lot to do with ensuring that your roof is in top shape at all times. As a residential roofing expert, Pressure Point Roofing, LLC. is here to make sure that you get the best products and services, guaranteeing you have what you need to take your home to the next level.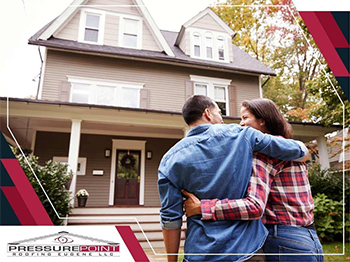 Roof Repairs and Replacements
There's no avoiding harsh weather and other external threats, but you can make sure your roof stays beautiful and functional by taking prompt action. Our team will inspect your roof to determine its current condition before recommending the best solution.
Of course, there's only so much that roof repair can do. If your roof is old or has sustained extensive damage, then a roof replacement is likely the way to go. As a GAF Master Elite® contractor, Pressure Point Roofing, LLC. offers trusted, reliable roofing options for every home, big or small, to ensure the results you're looking for.
Other Roofing Jobs
With Pressure Point Roofing, LLC.'s selection of the highest-quality products, you are assured that your new roofing construction project will deliver the results you want. Installed properly, your new roof is sure to last, delivering top performance throughout its service life.
Once your new roof is installed, it's time to consider roof maintenance services to ensure you make the most of its service life. Routine maintenance should ideally be scheduled twice a year: in spring and fall, as well as after any severe weather event in your area.
At Pressure Point Roofing, LLC., we believe in giving you the best experience, from the office to the field. To learn more about what we have in store for homes in Springfield, OR, and the surrounding communities, call us today at (541) 688-7663 or fill out our online contact form. We hope to hear from you soon!